Welcome to MYachting
The magic of the sea and our love for sailing made us create MYachting MCPY. The name of the company is not accidental, as we want to show our customers that the yacht which they will sail, as well the Captain on board, will make them feel that they are at their own yacht – home. Our goal is the full satisfaction of the customer at reasonable prices, together with the outmost safety and comfort during the trip.
The Yacht sails steadily through the Aegean waves and the passengers feel safe and secure even under even the most difficult weather conditions.
Since 1976
Since the Aegean Sea is one of the best places in the world for sailing and vacations, we have decided to have our headquarters at the Kalamaki Marina located in its center and close to the Athens airport. The yacht is run by a Captain who has 42 years of sailing experience. He knows the Greek seas very well, he is an engineer by profession and he can also teach you (in addition to sailing) wind surfing, fishing & free diving. Our long experience in yachting since 1986 has taught us that:
Professionals
Only yachts which are fully equipped and properly maintained by professionals can cope with any possible difficult weather conditions of the Greek seas.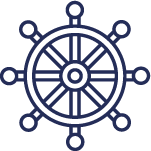 Reliable
The yacht should not change crew every week.

Ready
The crew should not only know the exact place of everything in the yacht but they should also know how to use them during an emergency.
Our decision to invest on a sailing yacht with heavy construction, classic design and excellent sailing, has fulfilled our expectations. We recently renovated it in such a way that now it has nothing less than a similar brand new yacht.
Rates For Ageri Triton 48
July / August
Weekly Rate: 4299€
May / September
Weekly Rate: 3149€
1/10-31/4
Weekly Rate: 2699€
One Day Trip
09:00 -19:00: 1199€* max 11 pax
Two Days Trip
09:00 -19:00: 1999€* max 10 pax
Two and Half Days Trip
14:00 -19:00: 2399€* max 10 pax
Advantages
Included
Not Included
Payment
Choose one of the suggested tours or plan your own. Contact us by e-mail or call the captain/owner of the boat at his mobile +30 6972 912669 to let you know about the available dates and offer the best price.
*All inclusive except food and drinks.